Publishing opportunities at the IAM
Home, Canada, Germany, Ireland, Netherlands, United Kingdom, USA, NxtGen
Blog
22 Jan 2021
Publishing opportunities at the IAM
We have exciting opportunities for you to use your experience and thought leadership in internationally recognised publications – join one of our projects today.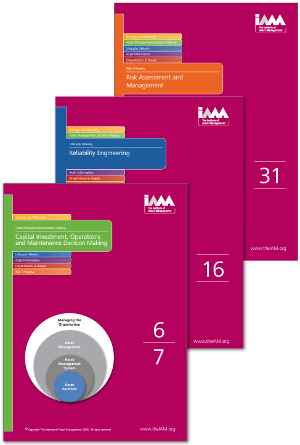 The IAM publishes leading technical advice and guidance on all areas of asset management- known as Subject Specific Guidelines or SSGs. Over the years these documents have been vital in providing the tools and information necessary for asset management professionals to put theory into practice.
The SSG subject areas cover the 39 steps included in the Asset Management Landscape. Each publication takes an in-depth look at that subject and provides practical insight to help asset management professionals and organisations worldwide realise greater value in their work.
We're looking for subject matter experts to continue this work and help us publish a new roster of SSGs. If you can help contribute to the production of any of the following publications, we would love to hear from you.

___________
Strategic Planning (SSG 4)
CONTRIBUTORS NEEDED
Topic overview: The processes an organisation uses to undertake strategic asset management planning, to establish asset management objectives and develop the asset management strategy (SAMP). It includes: how the organisation is to address the outputs from demand analysis; the processes for determining long-term renewal, enhancement and maintenance work volumes; and the associated risks and costs to meet the asset management objectives. Asset management strategic planning is usually undertaken as part o the overall organisational strategic planning process.
Asset Creation & Acquisition (SSG 12)
CONTRIBUTORS NEEDED
Topic overview: An organisation's processes for the acquisition, creation, installation and commissioning of assets. It also includes elements of approval and releasing of funding, arrangements for hand-over to operations, the monitoring and capture of actual costs and benefits analysis.
Resources Strategy & Management (SSG 9 & 18)
CONTRIBUTORS NEEDED
Topic overviews:
Strategy: Determining and documenting the activities and processes to be undertaken by an organisation in order to produce and use people, plant, tools and materials to deliver the asset management objectives and asset management plan(s). The resourcing strategy should consider the risks of out-sourcing the provision of resources, and how to best integrate the available resources across the organisation in order to cost effectively deliver the asset management plan(s).
Management: Implementing the resourcing strategy to manage the use of funds, people, plant, tools and materials in delivering asset management activities. It includes integrating the resource utilisation across the organisation and across all asset management activities.
Fault & Incident Response (SSG 20)
PROJECT LEAD AND CONTRIBUTORS NEEDED
Topic overview: Responding to failures and incidents in a systematic manner, including incident detection and identification, fault analysis, use of standard responses, temporary and permanent repairs as well as the taking over and handing back of sites. It includes developing plans to respond to unplanned events and managing the resources required for the response to the events, and escalation criteria.
Sustainable Development (SSG 33)
POJECT LEAD AND CONTRIBUTORS NEEDED
Topic overview: The interdisciplinary, collaborative processes used by an organisation to ensure an enduring, balanced approach to economic activity, environmental responsibility and social progress to ensure all activities are sustainable in perpetuity.

Asset Management System Monitoring, Management Review, Audit and Assurance (SSG 36 & 37)
CONTRIBUTORS NEEDED
Topic overviews:
System Monitoring: The processes and measures used by an organisation to assess the performance and health of its asset management systems. The primary aim is to evaluate the extent to which the AMS is fit for purpose and that the organisation is delivering its asset management objectives.
Management Review, Audit and Assurance: An organisation's processes for reviewing and auditing the effectiveness of its asset management processes and AMS.
___________
Would like to be an author of any of the publications above? Get in touch with us today to discuss. 

Related News