IAM Annual Conference 2021
Address:
IAM Annual Conference 2021 - Virtual
Online
UK

Our theme for this year is the climate emergency. We will be looking at how asset management can meet the challenges of climate change, and how it develops organisational resilience to the impacts of climate change.
_______
Join us for 3 days of thought-leading asset management presentations, workshops and panel discussions on topics such as:
Sustainable development – how do asset owners and managers reduce the impact of their activities on our climate and planet?
How does compliance with ISO55001 support a drive towards net zero?
Is improving resilience a reactive or proactive response to the climate emergency?
What will drive the balance between green sources and fossil fuel for future energy production?
Case studies of asset owning organisations who have gone net zero and the journey they took to get there
We are collecting speakers and participants from a wide range of industries and regions – so no matter where you work or the challenges you face, this conference can give you actionable insight into how asset management can meet some of the biggest questions in 2021.
See previous conference presentations on this topic:
"At the IAM we are developing our approach to climate change and the climate emergency. Clearly, we need to collectively address the drivers of climate change, especially greenhouse gas emissions. We also need to address how we adapt and achieve resilience to those changes, and we recognise the need to do this in the context of sustainable development as described by the United Nations. What we value in society is key, and as values around the world change, asset management is adapting to reflect and embrace these values."
Ursula Bryan, President, Institute of Asset Management 
Who attends IAM Annual Conferences? 
Conference participants come from a wide range of sectors and regions. Here are some of the organisations that have participated: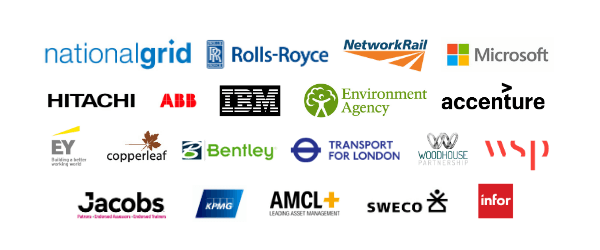 This online event has plenty of opportunities for you to engage with the community and gives you access long beyond a standard 3 day event experience.

• On-demand content during and after the event
• All sessions available to re-watch after they have aired live, at any time
• Access the conference on desktop, mobile or tablet devices
• Unique networking opportunities – one-on-one conversations (text or video call) with attendees, speakers, sponsors and exhibitors
• Virtual exhibition stands with leading service and tool providers
Reach key decision-making individuals amongst your target client audience with our unique sponsorship and exhibition opportunities. Contact events@theIAM.org
Please read our Terms and Conditions relating to photography and filming, delegate list, cancellation and refunds policy, and overseas VAT information. If you have any questions, please email events@theIAM.org
IAM Annual Conference 2021 - Virtual Booking - Corporate Member Price
£396.00
IAM Annual Conference 2021 - Virtual Booking - Member Price
£396.00
IAM Annual Conference 2021 - Virtual Booking - Non Member Price
£480.00
IAM Annual Conference 2021 - Virtual Booking - Corporate Member Price
€444.00
IAM Annual Conference 2021 - Virtual Booking - Member Price
€444.00
IAM Annual Conference 2021 - Virtual Booking - Non Member Price
€564.00
IAM Annual Conference 2021 - Virtual Booking - Corporate Member Price
$540.00
IAM Annual Conference 2021 - Virtual Booking - Member Price
$540.00
IAM Annual Conference 2021 - Virtual Booking - Non Member Price
$684.00
IAM Annual Conference 2021 - Virtual Booking - Member Price
£396.00
IAM Annual Conference 2021 - Virtual Booking - Non Member Price
£480.00
IAM Annual Conference 2021 - Virtual Booking - Member Price
$540.00
IAM Annual Conference 2021 - Virtual Booking - Non Member Price
$684.00
IAM Annual Conference 2021 - Virtual Booking - Member Price
€444.00
IAM Annual Conference 2021 - Virtual Booking - Non Member Price
€564.00
Book now