Subject Specific Guidelines (SSG)
Overview
The Subject Specific Guidelines (SSGs) are part of a series of publications designed to expand and enrich asset management knowledge.
The SSGs cover the 39 Subjects in Asset Management - an anatomy, and are also based on the asset management knowledge structure or 'matrix' from the Asset Management Landscape.
The SSGs are a core element within the IAM asset management knowledge base. Through peer review and IAM Expert Panel assessment, they fully align with the IAM's values of the development of excellence in asset management, and the provision of support to those seeking that success.
Each SSG document covers one or a group of subjects from the 39 Subjects, with broader subjects meriting their own SSG, and closely related subjects being grouped together in one SSG.
The publications are colour-coded according to the Group within which the Subjects appear.
SSG project status
All SSG documents are either in progress or complete. Completed SSGs have been published are available to purchase in PDF and print format.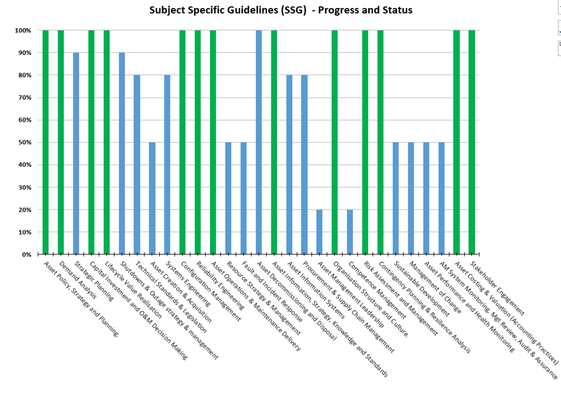 Contribute to an SSG
The Subject Specific Guidelines rely on the efforts and expertise of our members. You can get involved in the development of the guidelines by contacting us to join an SSG project in progress. We look forward to working with you!
Group 1: Strategy and Planning
Subject 4

Strategic Planning
(in progress)
Group 2: Asset Management Decision Making
Subject 9

Resourcing Strategy
(in progress)

Subject 10

Shutdowns & Outage Strategy (in progress)

 
 
Group 3: Life Cycle Delivery
Subject 11

Technical Standards & Legislation (in progress)

Subject 3

Asset Creation & Acquisition (in progress)

Subject 13

Systems Engineering
(in progress)

Subject 18

Resource Management
In progress)

Subject 19

Shutdown & Outage Management (in progress)

Subject 20

Fault & Incident Response
(in progress)

 
Group 4: Asset Information
Subject 24

Asset Information Systems (in progress)

 
Group 5: Organisation and People
Subject 26

Procurement & Supply Chain Management (in progress)

Subject 27

Asset Management Leadership (in progress)

Subject 30

Competence Management
(in progress)

 
 
Group 6: Risk and Review
Subject 33

Sustainable Development
(in progress)

Subject 34

Management of Change
(in progress)

Subject 35

Asset Performance & Health Monitoring (in progress)

Subject 36

Asset Management System Monitoring (in progress)

Subject 37

Management Review, Audit & Assurance (in progress)
Sponsor an SSG
Sponsorship opportunities are now available for the SSG projects. We offer your organisation the chance to sponsor the SSG programme and be associated with the print and digital copies. Contact us for more information.
Using the SSGs
The Subject Specific Guidelines provide detailed guidance and information on implementing principles laid out by PAS 55 and ISO 55000, including case studies from a range of sectors. These guidelines may be either sector-specific: rail, electricity distribution, facilities management or nuclear, or functional: asset information, risk management and decision support.
The SSGs are not a definitive recipe for implementation; they represent considerations for asset managers when creating, maintaining and improving asset management systems. Understanding the complexity and maturity of an organisation is key for putting the SSGs in the right context, as the maturity of the organisation will determine its ability to recognise and implement a solution and the complexity of an organisation will determine the complexity of the solution required.
Background
The SSG Steering Group has been successfully navigated by industry experts, academics and thought leaders who have provided clarity and shared insight into the 39 subjects. We plan to complete the whole series of SSGs by the end of 2020.
Thank you to all the project teams who have worked on the development and production of the SSGs.
Purchase the Subject Specific Guidelines
Each of the completed SSGs are available from our shop as printed publications or PDFs. IAM members receive a 50% discount on SSG publications.